Lordswood Children's Centre
Proud to be part of the Griffin Schools Trust

Class Photographs
We have arranged for the Class Photographs to be taken on Wednesday 30th April. Please ensure that your child is wearing the correct school uniform (summer or winter). If your child is in the Nursery letters have been sent home explaining what you should do if your child is not due in on this day (see letter posted in Parent Zone under FSU).
In addition to the class photographs a Year Book will be available for children in Year 6 only which will include a year group photograph and individual photograph
Breakfast Club
We would like to remind parents that places at our Breakfast Club should be booked in advance. Due to Health & Safety regulations we are restricted to 25 children per session. The Breakfast Club is proving to be incredibly popular with some days already fully booked - if you have not pre-booked a place and would like your child to attend Breakfast Club please do not drop them off before first speaking to a member of staff.
Thank you for your cooperation.
Place2be
Camilla Gammelgaard-Baker will be leaving Place2be on 10th April; we look forward to welcoming Myles Stewart to Lordswood School on Tuesday 22nd April.
If you would like to speak to Myles you can reach him on 01634 333698 (Tuesday, Wednesday & Thursday).
Message from Pentagon Centre:
We would like to say a big thank you to all the children for their hard work in creating some really good portraits.

All the entries are now up on the Pentagon Shopping Centre
Facebook page to be viewed by parents, students, family and friends.

https://www.facebook.com/media/set/?set=a.10152102056598853.1073741847.354091...
We are pleased to announce that two of the winning entries were drawn by children from Year 2 - please click on the following links to view their winning portraits. Well done girls.
Plea from the FSU
Staff in our FSU are desperate for donations of boy's socks, jogging bottoms and trousers that could be used by the children in the FSU. If you have any items that you are able to donate we would be most grateful.
With thanks.
World Book Day
6th March 2014
We would like to say a huge thank you to all our parents & carers for the wonderful support you gave us for our World Book Day activities.
Almost every child wore PJ's or a Onesie and nearly all brought in their box, ready for their story box.
We literally had hundreds of photographs of the children reading in strange places, these will be displayed around the school shortly, and selected images included on the website.
We hope your child had a wonderful day.
Please encourage your child to keep reading.
Thank you.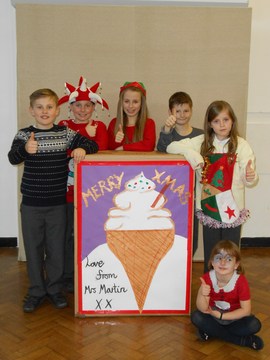 We have been advised by Medway Council that our Pupil Premium Grant is being extended to pupils who from 1 January 2006 have been adopted from care, or are subject to special guardianship orders or residence orders.
Parents and guardians do not have to share this information as we know this is a sensitive issue. However, if you think your child would benefit from this funding please speak to either Mrs Campbell or Mrs Martin in the strictest confidence.
Further information can be found on
All children will need to bring their PE Kits (shorts, t-shirt & plimsolls) daily.
Latest School Calendar Events
Homework Club

30

Apr

2014

12:00 - 13:30 @ Lordswood School

'Drop-in' Homework club will be held during the lunch-hour commencing 25th September 2013

Parent Consultation Evening

30

Apr

2014

15:30 - 17:00 @ Lordswood School Year 6 Classrooms

Parent Consultation Evening for Parents of Year 6 children only

Swimming Year 4

01

May

2014

09:15 - 11:30 @ Hoo Swimming Pool

Year 4 Swimming at Hoo (Limited to 30 places). Coach booked to take children to and from the venue

Parent Consultation Evening Year 6 Only

01

May

2014

15:30 - 19:00 @ Year 6 Classrooms

Parent Consultation Evening for parents of children in Year 6 only

Parent Consultation Evening

01

May

2014

17:00 - 19:30 @ Lordswood School Year 6 Classrooms

Parent Consultation Evening for Parents of Year 6 children only
Calendars page(s):
School Calendar >>